By Susan Brinkmann, OCDS
Staff Journalist
Under cover of darkness, Father Frank Pavone, national director of Priests for Life, arrived in Ontario, Canada, Sunday night to rescue Baby Joseph Maraachli from the London Health Sciences Centre and see him safely transferred to a Catholic hospital in St. Louis.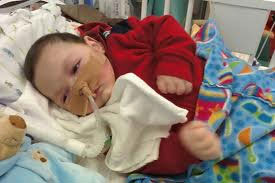 In a press release issued early this morning, Fr. Pavone confirmed that 13 month-old Joseph Maraachli, who is suffering from an incurable neurological disease, has been successfully transferred to Cardinal Glennon Children's Medical Center in St. Louis, Mo.
"Priests for Life staff toiled through the night for many nights, working in concert with dozens of people to make this possible," Father Pavone said. "Now that we have won the battle against the medical bureaucracy in Canada, the real work of saving Baby Joseph can begin."
Baby Joseph and his father, Moe Maraachli, were flown with Father Pavone to St. Louis on a specially equipped air ambulance provided by Michigan-based Kalitta Charters, and sponsored and paid for by the New York City-based Priests for Life.
"If there is a chance this boy can live, we have to explore every option," said Father Pavone.
SSM Cardinal Glennon Children's Medical Center opened in 1956 and was named in memory of Cardinal John Glennon, Archbishop of St. Louis from 1903 until his death in 1946. The hospital was a fulfillment of Cardinal Glennon's vision of a health-care facility open to all children in need of medical care. The hospital is part of SSM Healthcare, which is run by the Franciscan Sisters of Mary. The system has 19 acute-care hospitals in Missouri, Illinois, Wisconsin and Oklahoma.
This ends the weeks-long battle against the London, Ontario hospital that has insisted on ending Joseph's life by withdrawing him from a ventilator. The family asked that a tracheotomy be performed first, which would enable the child to continue breathing, so that he could spend his last days at home with his family. The hospital refused, and was within hours of removing Joseph from the ventilator when the transfer took place.
Father Pavone said Baby Joseph's transfer was accomplished through the efforts of a number of people, including his parents; family spokesman Sam Sansalone; family attorney Claudio Martini; Bobby Schindler of the Terri Schiavo Life & Hope Network, St. Petersburg, Fla.; Dr. Martin McCaffrey, a neonatologist at the University of North Carolina, Chapel Hill, Medical School; the Rev. Pat Mahoney, director of the Christian Defense Coalition in Washington, D.C., and attorney CeCe Heil from the American Center for Law and Justice, also in D.C.
Father Frank also thanked the many other Canadian pro-life groups and individuals who have been consistent and heroic in their advocacy for Baby Joseph and for all the vulnerable.
© All Rights Reserved, Living His Life Abundantly®/Women of Grace®  http://www.womenofgrace.com