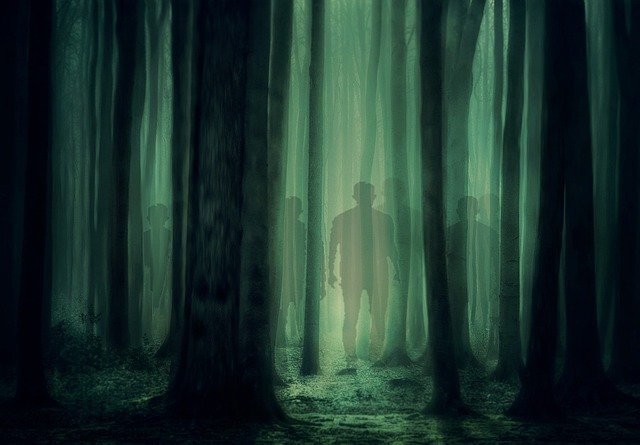 GG asks: "Is there any truth to the legend of a haunted place in Malvern, Pennsylvania where the bodies of deceased immigrants who died of cholera were buried?"
Yes, there is truth to this story!
As CNN reported, Joseph Tripican, a former Pennsylvania Railroad worker, used to tell a story every Thanksgiving about a man who was walking home from a tavern in 1909 and swore he saw blue and green ghosts dancing above a trench in the woods of Malvern, Pennsylvania, a suburb of Philadelphia.
"I saw with my own eyes, the ghosts of the Irishmen who died with the cholera a month ago, a-dancing around the big trench where they were buried; it's true, mister, it was awful," the unnamed man reported in documents owned by the Pennsylvania Railroad. "Why, they looked as if they were a kind of green and blue fire and they were a-hopping and bobbing on their graves… I had heard the Irishmen were haunting the place because they were buried without the benefit of clergy."
When Tripican passed passed away, his grandsons, the Rev. Dr. Frank Watson and his twin brother, William Watson, a historian, inherited his files and found more information about the events surrounding their favorite ghost story. These tips led them to believe that maybe the Thanksgiving tale had some truth to it.
In 2002, the Watsons acquired the necessary permits and began to dig around the area, known as Duffy's Cut, where they found the remnants of an old shanty. A few years later, they stumbled upon an even more impressive find – a pipe with an Irish flag on it.
The pair decided to get professional help and turned to Tim Bechtel, a geophysicist who was able to conduct an earth scan of the area where the Watsons were digging. Sure enough, anomalies were found that eventually led to the uncovering of coffins filled with the bones of Irish immigrants who had died of cholera – and possibly something else – during the cholera epidemic of 1832.
Janet Monge, an anthropologist at the University of Pennsylvania, examined the skulls of four victims and found evidence of divots in the side of the skull that suggested some of them might have been hit over the head at the time of their death. One skull sported an injury that looked very much like a bullet hole.
"If they had cholera, it didn't kill them," she said. "I would say something else killed them, but they might have had cholera, too."
The find eventually led to piecing together the story of what may have happened at Duffy's Cut 188 years ago.
According to Smithsonian Magazine, when the cholera epidemic struck the Philadelphia countryside, railroad workers housed in a shanty near Duffy's Cut fled the area looking to escape the plague. However, the locals were afraid of being infected themselves refused to house the workers. They were forced to return to the shanty at Duffy's Cut where they were tended to by a local blacksmith and the Sisters of Charity. Many believe that some of the infected men might have been killed in an effort to stem the tide of the infection. When all of the men died, the blacksmith buried the bodies and torched the shanty.
For a long while, the only remains to be identified were those of John Ruddy, an 18-year-old laborer from rural County Donegal, who sailed from Derry in the spring of 1832.
"He likely had cholera, alongside dozens of his countrymen, all dying within two months of setting foot on American shores," the Smithsonian wrote.
Eventually, more of the victims were identified and a memorial now marks the spot in Duffy's Cut. However, when Amtrak took over the line, no further digging was permitted, which left the remaining 57 bodies unidentified.
Although we may never know exactly what happened to the men at Duffy's Cut, the Watsons believe it's important to recognize them.
"These guys came over here with nothing, looking for the American dream like countless people have done," Bill Watson told CNN. "They thought they were going to make it and within six weeks of arrival they're literally buried in the fill here."
As for whether or not their ghosts can be seen "a-hopping and bobbing" in the night, we can be sure that God rendered a just and merciful judgement upon each man that sent them to their eternal reward or punishment – just as He does with everyone who dies. He does not leave His children to wander aimlessly between life and death.
However, it is possible that the Lord allowed these souls to appear in order to acquire prayers by drawing attention to the mass grave – but they would not have been "a-dancing" on their graves. When souls appear to ask for prayer they usually behave much more soberly – which means this part of the story is probably the result of the over-stimulated imagination of a man who had a bit too much whiskey before heading home that night.
Whatever the case, during this holy month dedicated to praying for the souls in purgatory, let us keep these souls and all others whose bodies are buried in forgotten graves, in our prayers. If we do so, we can be sure that their prayers of Thanksgiving will rise to God along with our own this Thanksgiving Day!
© All Rights Reserved, Living His Life Abundantly®/Women of Grace®  http://www.womenofgrace.com
Women of Grace® has compiled a library of over 1400 articles on New Age and occult related material and has been offering them to the public for more than a decade – at no charge! If you appreciate our research, please prayerfully consider making a donation to support this vital work! Click here to donate!