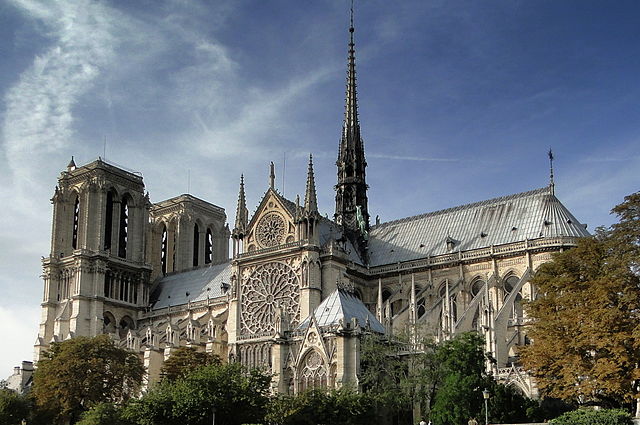 The French Senate passed a bill earlier this week that will require restoration of the fire-ravaged Notre-Dame de Paris cathedral to be faithful to its "last known visual state."
CNA is reporting on the restoration bill which includes a clause stating that it must be rebuilt as it was before last month's fire destroyed its roof and iconic spire. It also removed a clause that would have allowed the government to override planning, environmental and heritage regulations that would have enabled the restoration to be completed by 2024.
Passage of the bill quashes the competition initiated by French president Emmanuel Macron to have architects from around the world submit suggestions for an "inventive reconstruction" of the cathedral. Some of the suggestions received were indeed bizarre, such as an idea submitted by Ian Ritchie, creator of the Spire of Dublin, who proposed rebuilding the cathedral's damaged spire with a "super-slender reflecting crystal to heaven" that would "tough heaven's clouds in a piece of celestial gothic acupuncture."
Thankfully, the new bill, which must be returned to the National Assembly for final review, will protect the structure from being defaced in the name of modernity.
However, this doesn't mean it will be any easier to rebuild.
The Smithsonian is reporting on just how daunting a task it will be to restore the damaged portions of the cathedral to their original state. For example, rebuilding the roof would require 3,000 sturdy oak trees, a number that is not readily available because of Europe's lack of suitable forests. It is believed that builders will have to import the wood from countries where forests of very tall and very old trees remain. Also, because the original limestone used to build the cathedral was hand-quarried and assembled by hand in the 12th century, a similar, and therefore, painstaking process will have to take place in order to maintain the building's "homogenous look."
Rebuilding such a magnificent structure, which was constructed between the twelfth and fourteenth centuries, was seriously damaged in a fire on April 15 of this year, will be a monumental task.
We can only hope that it will be rebuilt with the same reverent and prayerful hands as the original.
© All Rights Reserved, Living His Life Abundantly®/Women of Grace®  http://www.womenofgrace.com