By Susan Brinkmann, OCDS
Staff Journalist
The priest whose real life experience is the basis for a new movie about exoricism scheduled for release this Friday, is praising the film for its positive portrayal of the Church and for its witness to the power of faith.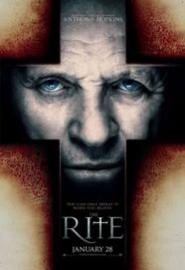 The Catholic News Agency (CNA) is reporting that The Rite chronicles the experience of Father Gary Thomas, a parish pastor from California, who was sent to Rome in 2005 to study under an Italian exorcist in spite of many of his own doubts.
Loosely based on the 2009 book by Matt Baglio, The Rite: The Making of a Modern Exorcist, Anthony Hopkins stars in the role of an Italian exorcist named Fr. Lucas who mentors Fr. Thomas who is portrayed in the film as a young seminary student played by Colin O'Donoghue. During the course of the film, Fr. Lucas opens his eyes to the reality of demon possession and the need for the rite in the modern world.
In an interview with CNA on Jan. 19, Fr. Thomas – who currently serves as pastor of Sacred Heart Parish in Saratoga, California –  said that while serving as a consultant on the film, he found that the directors and producers were very concerned with making the exorcism scenes as accurate as possible.
 "The environment of that movie set was very reverential towards the Church," Fr. Thomas told CNA. "The producer and the director and the cast whom I worked with at the time were very open."
Those involved in making the movie found the experience to be very powerful and even frightening. For instance, O'Donoghue, a practicing Catholic who serves as a lector in his parish in Dublin, and Hopkins, a professed Christian, "very much believe in the existence of evil and feared possible demonic attacks as a result of working on the film," Fr. Thomas said. 
Knowing what he does, when asked by the producer and actors if retaliation was possible after making such a movie, Fr. Thomas could only say it was a possibility.
"I do think that a person can get attacked, and I don't know if they did but they were afraid," he said. "I just tried to reassure them."
Even though the film is being advertised to look more like a horror movie, this is a bit deceptive, Fr. Thomas said.
"There ares some very riveting scenes – I wouldn't say they're scary, but they're a little startling."
Ultimately, "this is a movie about faith," he said.  "People are going to be very surprised."
The film, which is being distributed by New Line Cinema, has been rated PG-13 for its disturbing thematic material, violence, frightening images, some language and sexual references.
© All Rights Reserved, Living His Life Abundantly®/Women of Grace®  http://www.womenofgrace.com