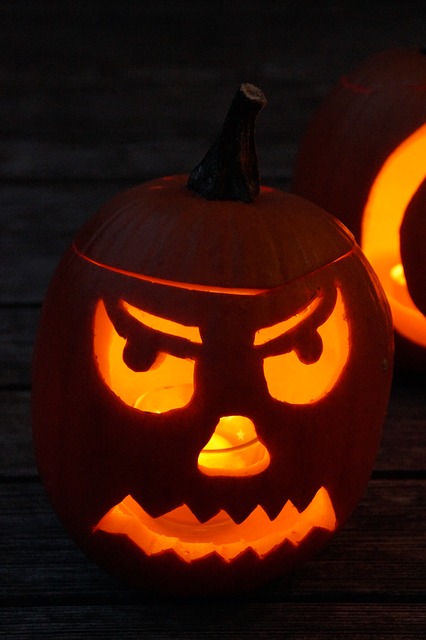 Halloween 2018 is starting off on a really bad note for some revelers, such as the couple who were unwillingly tossed into a mock rape scene in a haunted house in Ohio and the two women who thought they were fooling around with a prop when one of them discovered she had been stabbed.
Fox News is reporting on the story of a young couple from Ohio, Sarah Lelonek, 31, and Ryan Carr, 25, who decided to take a trip through a haunted house at the Akron Fright Fest in Uniontown. They entered an "all ages" house – which allegedly did not require a signed waiver – when Carr was suddenly grabbed by a masked man, shoved onto a plywood bed and held down.
"A tall man who looked like Leatherface was pushing him down on the bed. I heard him clunk," Lelonek described to Fox News. "So I said, 'That's my boyfriend! Please stop."
The mysterious attacker refused. "He's not your boyfriend anymore," he told her. "I'm going to rape him," at which time the man began to make movements that simulated rape.
Lelonek said she was more disgusted than afraid.
"I realized he was putting on a show for me," she added. "All I could think about is all of my friends who had been sexually assaulted. It was a PTSD situation."
Her boyfriend was eventually released and the two rushed out of the house. Although Carr's only complaint was a sore shoulder, Lelonek said she felt compelled to get the word out on Facebook to warn any victims of sexual assault that they should not go to that haunted house.
"This is a non-waiver house. Nothing was signed. I repeat. Not one thing was signed. Kids go in this," she warned.
The incident came to the attention of Jeremy Caudill, managing partner of Melanie Lake Inc at Kim Tam Park where the house is located. He told Fox News he was "shocked" and "appalled" by the allegations.
"We're still investigating and trying to find out exactly what happened, and we're hearing some confusing, inconsistent reports. When we know more, we'll act based on what we learn. But I want to emphasize this point: There is no place for anything like this at our park," he said.
All employers who worked in the area where the incident allegedly took place have been suspended as the park investigates. The park will also place additional security and monitoring systems inside each haunted house.
About 500 miles south, at another haunted house located in Nashville, Fox News reported on a woman and a few friends who were waiting in line to enter Nashville Nightmare Halloween at around 9 p.m. on a Friday night when an unknown man came up her and handed her a knife. She thought the stranger worked for the venue and that the knife was a prop.
When the man told her to stab her friend, she did so, and was horrified to see a hole in her friend's shirt and blood start squirting out of his arm. The unidentified man then took the knife back and fled.
The victim was transported to a hospital and treated for a "severe laceration" on his arm.
According to the police report, the unknown suspect was wearing skull face makeup and a straw hat with a striped band.
Thirteenth Floor Entertainment Group, which was responsible for staging the Halloween attraction, said it is still investigating the incident and confirmed that a male employee has been placed on leave.
"As we have continued to review the information, we believe that an employee was involved in some way, and he has been placed on leave until we can determine his involvement," the company said in a statement to Fox News. "We are going over all of our safety protocols with all of our staff again, as the safety and security of all of our patrons is always our main concern."
The woman who wielded the knife has not been charged with any crime.
Haunted houses and other ghoulish events are popping up all over the country as another Halloween looms just one week away. As these incidents prove, what seems like harmless fun can quickly reel out of control.
But it shouldn't surprise us. This time of year, which has become more of a celebration of the occult than harmless trick or treating, is a particularly active time for those bent on evil.
An exorcist named Father Aldo Buonaiuto, who serves as a spokesman for the International Association of Exorcists, which is Vatican approved – says his group's emergency number receives around 40 calls a day around this time of year, many from parents who believe their child has been initiated into the occult.
"Many say Halloween is a simple carnival, but in fact there is nothing innocent or fun about it – it is the antechamber to something much more dangerous," Father Buonaiuto said. "There are always more evil rituals, animal sacrifices, desecrations of cemeteries and thefts of sacred bones at the time of 31 October."
He likened participation in Halloween to "an initiation into the occult" and said that this is the time of year that occult sects recruit new members.
"From here the door to the devil can be opened. For this reason it's necessary for us to speak out and not play down the danger."
© All Rights Reserved, Living His Life Abundantly®/Women of Grace®  http://www.womenofgrace.com
Fascination with the occult isn't limited to just Halloween. It's infesting our culture, especially where it concerns children. It's not too late to register for a very informative webinar on this subject, Beyond Halloween: How the Occult is Infiltrating Your Child's Life, which will air tonight at 8:00 p.m. Click here for more information.