Commentary by Susan Brinkmann, OCDS
Staff Journalist
The need to bow at the altar of "diversity" sank to new lows this week when it was revealed that the University of Chicago provided $3,200 to a student group's traveling "leather library" exhibit that eroticizes pedophilia, incest, and some of the most deviant pornographic perversions known to mankind.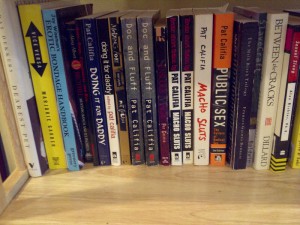 Americans for Truth About Homosexuality (AFTAH) sent a reporter on Wednesday to the exhibit, which is on display at the University's International House, where photos were taken (see right) of the perverse offerings that are part of the "Carter Johnson Leather Library".
Some of the offerings include:
* The lesbian porn book "Macho Sluts," by Pat Califia, which includes a story about a mother who engages in sadistic, violent "sex play" with her own 13-year-old daughter;
* Numerous books celebrating "Master-Slave" relationships;
* "Gay" pornographic fiction books with pederastic themes, including one 1975 book, "Small Town Boy," about a 15-year-old boy who meets up with and is sodomized by an adult businessman visiting from New York City;
* Photos and posters depicting the twisted violence and "consensual" degradation and cruelty of Sado-Masochism.
Even more shocking, the University has officially sanctioned a "student group" for sexual sadists known as RACK (Risk-Aware Consensual Kink)through which the exposition was funded.
RACK claims it has two main purposes: "The first is to raise general awareness of kink and to promote acceptance and understanding of BDSM [bondage, discipline, dominance and submission, sadism and masochism] by organizing presentations and discussions for the general campus community about various aspects of BDSM.
"Our second purpose is to provide resources to students who are interested in or curious about BDSM. Our weekly meetings give students a space in which they can talk openly about BDSM. We will also be organizing events, such as demos, to give students an opportunity learn from experienced members of the BDSM community about safely practicing kink."
The grant for the "fetish" exhibit came from the University's "Uncommon Fund," a $40,000, student-run program that "offers a chance for students to pursue a wide range of ideas that can benefit the campus community and campus life," a U-Chicago spokesman told the Chicago Sun-Times.
The sadistic-sex exhibit was free and open to the public, and while AFTAH's reporter was present, a few young women and men – who appeared to be around 20 – came to view the depraved materials. Exhibit creator Vi Johnson exulted to the Sun-Times: "Being able to bring this display to a college campus, put a 300-year-old book [about deviant sex] in the hands of a 20-year-old and say, 'Here's your history' — it's such a rush."
Around 3:00 PM Wednesday, as the "Leather Library" exhibit was winding down on its third and final day at the private university, dozens of elementary school children from a nearby grade school spilled onto the sidewalk.
"There could not have been a more jarring contrast between the innocence of children and the potential corruption that awaits them a mere decade later — at the hands of academic elites brandishing a particularly toxic form of tolerance," said AFTAH President Peter LaBarbera. "I doubt many U-Chicago parents or alums are aware that U-Chicago is using its funds to expose young men and women to high-risk, vile behaviors — all in the name of 'diversity.'"
© All Rights Reserved, Living His Life Abundantly®/Women of Grace®  http://www.womenofgrace.com