By Susan Brinkmann, OCDS
Staff Journalist
Citizens in Munson Township, Ohio are fighting another case of political correctness run amok after township trustees decided to abolish all references to Easter for this year's Easter Egg Roll and are now calling it "The Spring Egg Hunt."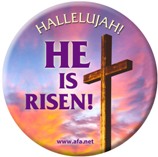 According to WKYC, citizens reacted with outrage and have already banded together to take the event out of township hands and sponsor it privately in order to keep the name Easter in the event. The trustees have agreed to allow them to put the name back into the event as long as taxpayers aren't footing the bill. A Munson homebuilder, Enzo Perfetto, has come forward with the $600 necessary to do so.
"It's traditionally been called an Easter egg hunt for years and years and people are little bit too touchy," said one citizen, Michelle Nelson.
"Stop the headache," said Matt Martsolf, a dance instructor who works with kids every day. "Just let the kids have their day."
The incident has offended Christians beyond the perimeters of Munson Township, however. The powerful American Family Association (AFA) has taken up the cause and is inviting its million members to contact the trustees and demand that they restore "Easter" to the town's event.
"First, there was an attack on Christmas. Now, political correctness has reached Easter. These elected officials need to know that Americans will not allow them to strip 'Easter' from community events," writes AFA president Tim Wildmon.
While egg hunts aren't exactly biblical, he says, they do provide opportunities for Christians to share the good news of Jesus' birth with members of the community by celebrating it in public.
In a prepared email, concerned Christians can tell trustees that their "decision is an insult to those who recognize Easter as a holiday that can be celebrated by the entire community. Political correctness should not be used as a weapon to silence Christians in Munson Township."
The organization has also created a special lapel button similar to those worn at Christmas time reminding people to keep Christ in Christmas. This one helps to keep the cross in Easter.
"For Christians, there is no more important symbol than the cross," Wildmon writes. "It represents a Savior who suffered, died and overcame death to bring eternal life to those who look to Him in faith. . . . I know it's just a button, but the symbol and the message 'Hallelujah! He is Risen!' declares the glorious truth around which all history orbits.
Click here to email Munson Township trustees.
Buttons can be ordered here.
© All Rights Reserved, Living His Life Abundantly®/Women of Grace®  http://www.womenofgrace.com