By Susan Brinkmann, OCDS
Staff Journalist
A Brooklyn judge has decided that a 17 year-old boy who has been in the custody of his well-paid mother all of his life, will now be better off living with his father – who is homeless and currently living in a city-run shelter.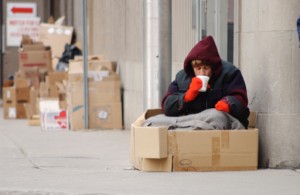 The New York Post is reporting that Family Court Judge Bernard Graham has taken the teen away from his mother, Jeannette Traylor, a $90,000-a-year court worker, claiming his decision was based on the wishes of the child.
The boy claimed his mother was "self-absorbed" and uninterested in him, and that she once hit him with an umbrella.
As a result, custody of the boy was given to his father, John Jacobs, who has been living on the streets for years, according to court papers.
The couple broke up shortly after their son was born in 1994 and shared joint custody for a time until Traylor was awarded primary custody in 2001. Jacobs refused to accept that decision and spent the next decade trying to win back custody. In more than two dozen legal filings, Jacob "constantly misled" investigators and a psychologist once testified that he had "severe reservations" about his parenting skills, the papers claim.
"I begged the judge please not to play with my son's life," Traylor told The Post. "What my ex-husband does doesn't surprise me. But I expected better when I went to court."
Jacobs believes the judge made the right decision and is now living with his son in a city-run shelter in Brooklyn.
"If I was in a cardboard box and if it was better for my son, so be it," he told the Post. "One parent is healthier for the child than the other . . . When you add the whole thing together, I'm better for the boy. That's the bottom line."
Traylor believes comments she made that were critical of the legal process affected the outcome of the case. Before rendering his final decision, the judge did indeed chastise her for being "quick to offer barbed criticism of the court and the legal process."
The teen will continue to attend a nearby Catholic high school where his mother pays the tuition.
© All Rights Reserved, Living His Life Abundantly®/Women of Grace®  http://www.womenofgrace.com