By Susan Brinkmann, OCDS
Staff Journalist
The small contingent of Christians who live in Libya fear the fall of Muammar Gadhafi only because his government protected the Church and several other Christian denominations in this predominantly Muslim nation.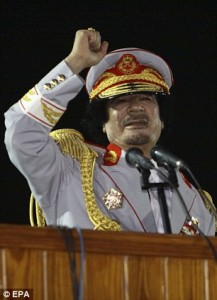 The Catholic News Service (CNS) is reporting that a Franciscan priest who cannot be named for security reasons said Christians in Libya are afraid that Islamic fundamentalists will take over the country when Gadhafi falls.
"Under Gadhafi, we've been protected," the priest said just eight days after leaving Libya on a pre-planned trip.  He plans to return to the country where he is one of 13 Franciscans who are serving apostolic vicariates in Tripoli and Benghazi.
Although there are no native Christians in Libya, about 50,000 to 60,000 Christian immigrant workers, mostly from Africa, work in Libya.
"At this time I feel I should be with the people," he told CNS. "I could be a support to them. Even though we wouldn't have access to a lot of communication, we could be in touch with one another somehow."
Once the protests broke out, it took him several days to reach Bishop Giovanni Innocenzo Martinelli, apostolic vicar of Tripoli, who told him the priests, nuns and most foreign Christians were "safe and sound," but frightened. 
Most of the immigrants he serves are unable to flee the country because they left unstable homelands and lack the necessary identity papers.
But for now, they're safe because the government recognizes five denominations of Christianity – Roman Catholic, Coptic, Greek Orthodox, Anglican, the Union Church which is a Protestant church in Africa.
 "The Libyan government has given complete freedom to the Christians to practice our Christianity," the priest said.
The priests serve the people from St. Francis Church in Tripoli and Immaculate Conception Church in Benghazi and have a very busy schedule. Because Friday is a non-working Muslim day of prayer, the churches celebrate five Masses for Africans, Indians, Filipinos, Eritreans and Koreans, the major migrant communities in Libya. On Sunday, which is a workday in Libya, the priests bring the Mass to the people at sites ranging from hospitals to oil rigs. Working on a rotating schedule, the priests travel anywhere from 15 to 745 miles to celebrate Sunday Mass.
However, they never make these trips alone. "We are always observed wherever we go, whatever we do," the priest said. Police and government officials follow them to be sure they are not attempting to convert Muslims.
Priests and nuns are also permitted to visit inmates in prison to provide spiritual counseling and emotional support, he said.
Hundreds of people have been killed since the protests broke out a week ago with defectors from the Libyan military saying Gadhafi ordered them to fire on protestors.
The Vatican newspaper l'Osservatore Romano responded by describing Gadhafi as "merciless."
"The situation is ever more critical in Libya where dire news reports pour in which, if confirmed, paint a frightening picture of massacres of the civilian population by the Libyan armed forces, including the air force," the paper reported.
© All Rights Reserved, Living His Life Abundantly®/Women of Grace®  http://www.womenofgrace.com