By Susan Brinkmann, OCDS
Staff Journalist
Police in Dayton, Ohio are looking for the person(s) responsible for spray painting Satanic symbols on statues at Immaculate Conception Church.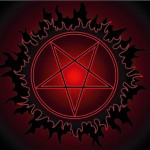 The Dayton Daily News is reporting that the vandalism, which occurred on Jan. 31, defaced eight limestone statues of saints.  In each case, the faces of the statues were  spray painted red. The numbers "666" were scrawled on one side of the wall surrounding the area, and a red pentagram was drawn on the other.
In addition, the doors on two nearby garages owned by the church were defaced with the words "fallen angels" and "666" written on one door. The other had red pentagrams surrounded by "666."
 According to the police report, the statues, which were all over 50 years old, were ruined because they were porous enough that the spray paint seeped into the stone.
© All Rights Reserved, Living His Life Abundantly®/Women of Grace®  http://www.womenofgrace.com