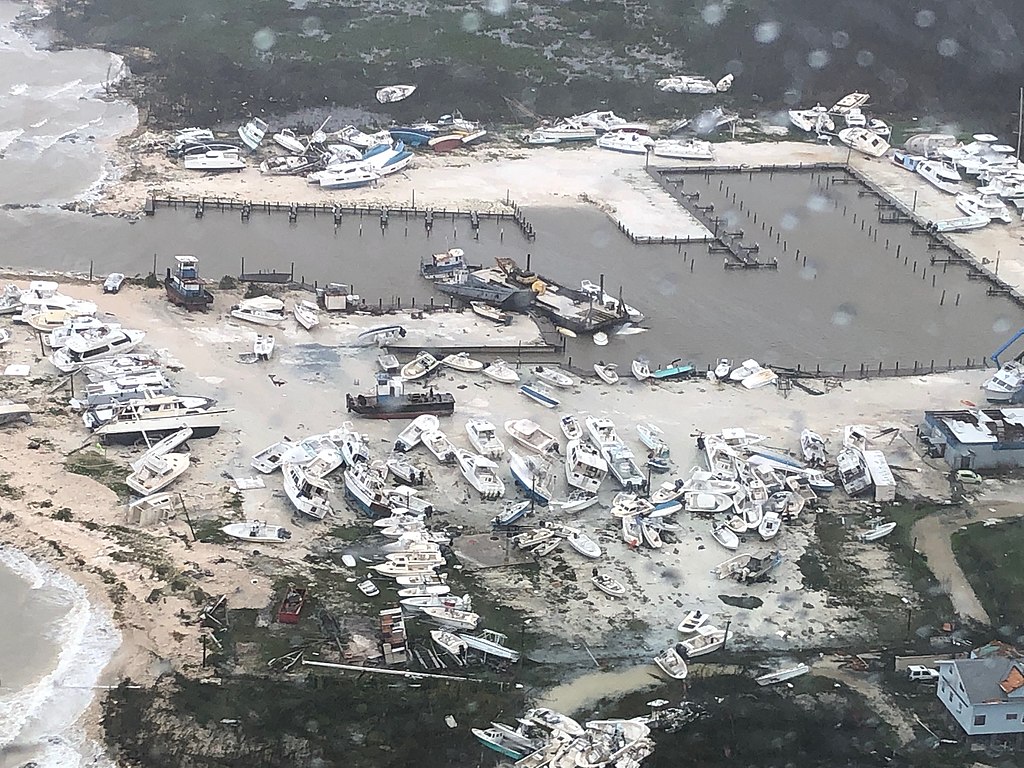 In the wake of Hurricane Dorian, which devastated the tiny island nation of the Bahamas, Catholics are struggling to cope with the massive destruction of their property and lifestyle, but are relying on their faith to carry them through this dark time.
Vatican News is reporting that more than 40 people have been killed in the Bahamas after Hurricane Dorian ripped through the Caribbean nation on September 1-2. The category-5 storm ravaged the country with winds in excess of 140 mph, drenching rains and sea surges of 15-20 feet. Prime Minister Hubert Minns described it as "one of the greatest national crises in our country's history."
Archbishop Patrick Pinder of Nassau, the nation's capital, put out an impassioned plea for help from the international community for the residents of the Bahamas, which total more than 408,000 of which an estimated 12 percent are Catholic. More than 70,000 people were impacted by the storm, many of whom lost their homes, businesses, and even loved ones. Describing the tragedy as a "massive destruction on a scale we've never before seen in the history of our little nation," he pleaded with the international community to provide "very basic needs" such as food, water, shelter, and clothing.
Meanwhile, Catholics are struggling to survive with an estimated 300 finding shelter inside the damaged St. Francis de Sales Parish in Marsh Harbor, which is located on the hard-hit Abaco Islands.
"The whole school is totally gone and the Catholic Church was damaged, especially the roof and one side of the wall is off; it was serving as a shelter," said Elmer Bongon to the Catholic News Service (CNS). An educator on the island for the past 18 years, he was also serving as an interim parish administrator at the parish following the death of the pastor earlier this year.
Farther up the road, Bongon said that St. Mary and Andrew Catholic Church in Treasure Cay is "totally gone, it was under 4 feet of water."
He was able to salvage official baptismal and other records from both churches before the hurricane struck and told CNS in a phone interview that said he was looking for a way to take the church records Archbishop Pinder in Nassau. He hoped to find temporary shelter for himself, his wife, and children.
Bongon gave a glimpse into the destruction of a lifestyle most of us take for granted when he reported that school was supposed to open last week.
"The students are scattered: Some are missing, many are in Nassau and I am sure our sister schools will accommodate some of them in Nassau, but I don't know yet what the plan is," he said. "I have two kids of my own in the school, but I don't know where they will go."
His family stayed in their apartment during the storm but were trapped inside when they were surrounded by water.
"My kids are suffering post-traumatic stress," he said. "We couldn't do anything but keep on praying for two days."
Kathy Nottage, a resident of Elbow Cay on the Abaco Islands, was one of the few people whose home was spared.
"You have to have faith; It's a miracle our home is still even standing," she told CNS.
Nottage and her husband Brian, who own fudge and ice cream shops in Nassau, Bahamas, were in New York with friends before the storm hit, but her husband went back to board up the shops just prior to Dorian's Sept. 1 landfall. Since then, she received just one text from her husband, who was using a friend's satellite phone, saying, "Kathy all is well" and hasn't spoken to him since because there is no phone service.
Nottage, who is Catholic, said there isn't a Catholic parish where she lives, but a priest used to come by boat every Sunday at noon to celebrate Mass under a fig tree in Hope Town.
She said about two dozen Catholics typically attended the Mass every week, and afterward would head to a local restaurant for Bahamian cuisine such as chicken souse or boiled fish.
Unfortunately, the restaurant was destroyed in the storm.
Geoffrey Farquharson, who lives in Nassau where he practices private law, rode out the storm in his home. He told The Catholic Sun that he has been in touch with clients and colleagues throughout the area and believes the government's estimate of 75,000 persons needing immediate support of food, water and shelter is conservative.
"These are destitute hurricane refugees with no stoves, no homes, groceries and no means of providing for themselves," Farquharson said. "The most critical need at the moment is water purification pellets and purification machinery. After that, the most urgent need is for food on an ongoing basis and temporary shelter for about a year."
Ever since Hurricane Katrina hit the city of New Orleans, he has been dedicated to praying to Our Lady of Prompt Succor for his own storm protection.
"I really believe in prayer, and I pray to her in times of devastation for urgent help," Farquharson said. "It is a prayer that I have been praying since this hurricane came and I ask people to pray that prayer for us."
Let us join him in prayer for the people of the Bahamas.
Prayer to Our Lady of Prompt Succor
Our Lady of Prompt Succor, ever Virgin Mother of Jesus Christ our Lord and God, you are most powerful against the enemy of our salvation. The divine promise of a Redeemer was announced right after the sin of our first parents; and you, through your Divine Son, crushed the serpent's head.
Hasten, then, to our help and deliver us from the deceits of Satan. Intercede for us with Jesus that we may always accept God's graces and be found faithful to Him in our particular states of life. As you once saved our beloved city from ravaging flames and our country from an invading army, have pity on us and obtain for us protection from hurricanes and all other disasters. (Silent pause for individual petitions.)
Assist us in the many trials which beset our path through life. Watch over the Church and the Pope as they uphold with total fidelity the purity of faith and morals against unremitting opposition.
Be to us truly Our Lady of Prompt Succor now and especially at the hour of our death, that we may gain everlasting life through the merits of Jesus Christ who lives and reigns with the Father and the Holy Spirit, one God, world without end. Amen.
Anyone wishing to contribute to relief efforts in the Bahama should visit the Archdiocese of Nassau website at archdioceseofnassau.org.
© All Rights Reserved, Living His Life Abundantly®/Women of Grace®  http://www.womenofgrace.com