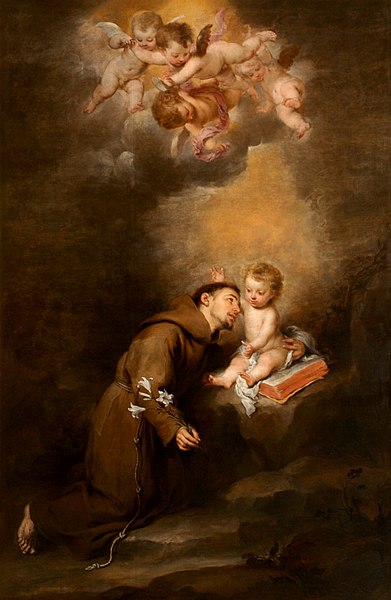 Saint Anthony of Padua (1195 – 1231), whose feast we celebrate on June 13th, enjoys popular renown, of course, as the patron saint of finding lost articles. Two lesser-known facts about him, however, are that he was Portuguese and not Italian by birth, and that he began his life in religion as an Augustinian, not as a Franciscan friar.
Anthony's family was noble and noteworthy in his home city of Lisbon. While much was expected of him in a worldly sense, Anthony was determined to follow Jesus in the religious life and so joined the Augustinians at age 15. He spent the next eight years in Lisbon and then Coimbra, immersed in prayer and study of Scripture, unaware of the importance of these formative years for his later life.
Anthony was a contemporary of Saint Francis of Assisi. In the early days of the Franciscan Order, five of their friars were martyred for teaching the faith in Morocco. Their remains were returned to Portugal; this sight awakened a great desire in Anthony to follow a similar path. Another pivotal point in his life came when he received permission to leave the Augustinian Order for the Franciscans and journeyed to Morocco. Grave illness early on necessitated his return to Portugal; however, the ship carrying him was blown off course, landing him in Sicily. Thus began Anthony's association with Italy, one which has endured, lovingly, for close to 800 years.
Having been missioned to work at a small Italian hermitage, Anthony labored there, humbly and without fanfare – praying, studying Scripture, and performing menial tasks for a year – until the Lord intervened in his life once again.
At an ordination liturgy attended by both Dominicans and Franciscans, it became obvious that no one present was prepared to give the homily. Unexpectedly, Anthony was called upon to preach and did so with great hesitation, but demonstrated such spiritual brilliance and genuine holiness that a whole new phase of his ministry was set into motion. He was missioned to preach and teach in northern Italy by Saint Francis of Assisi himself.
Later, in southern France, where the Albigensians had made a foothold, Anthony preached so eloquently against this heresy that he was given the sobriquet "Hammer of Heretics." Cooperating with the inspiration of the Holy Spirit, Anthony put his comprehensive knowledge of Sacred Scripture, and his prodigious God-given talents, to their most efficacious use for His honor and glory while maintaining a spirit of utmost humility.
A series of Lenten homilies in 1231, preached to crowds so great that they had to assemble outdoors, left Anthony severely weakened, and he died on June 13th of that year at age 36. Barely one year later, he was declared a saint by Pope Gregory IX; and in 1946, Pope Pius XII named him a Doctor of the Church. Numerous miracles – far beyond locating those misplaced car keys – are attributed to this humble saint whose words touched so many during his lifetime and through the centuries since his death.
Saint Anthony and the Tongue
We are very fortunate to have many sermons preached by Saint Anthony which have been preserved. One Pentecost sermon is eminently appropriate to our reflection, coming as it does within days of that great feast of the Church's birth. Following is an excerpt regarding those "tongues as of fire" (Acts 2:3):
"And there appeared to them parted tongues as it were of fire, and it sat upon every one of them; because it was by tongues (namely those of the serpent, Eve, and Adam) that death entered into the world [c.f. Wis 2:24]. The tongue of the serpent was poison to Eve, the tongue of Eve poisoned Adam, and Adam's tongue tried to turn the blame back on God. The tongue is a cold organ, surrounded by moisture; thus: 'It is an unquiet evil, full of deadly poison' [Jas 3:8], than which there is nothing colder. Therefore the Holy Spirit appeared in tongues of fire, to apply tongues to tongues, fire to deadly poison."
In a 2013 interview, the late Father Enzo Poiana, OFM Conv., then Rector of the Basilica of Saint Anthony in Padua, recounted a visit there by Saint Bonaventure, Minister General of the Franciscan Order, in 1263, thirty-two years after Anthony's death.
Bonaventure traveled from Rome to Padua to witness the transfer of Saint Anthony's remains to the new church built in his honor. When Saint Anthony's casket was opened, it was discovered that while the majority of his body had decomposed, his tongue was found to be moist, pink, and perfectly preserved. At the sight, as Father Poiana related, Saint Bonaventure exclaimed, "O blessed tongue, you have always praised the Lord and led others to praise him! Now we can clearly see how great indeed have been your merits before God."
Father Poiana elaborated: "The tongue is one of the most fragile parts of our body. After death, it is the part of our body that decays first. It is therefore significant that precisely this part of the Saint's body should be one of the best preserved ….. By preserving St. Anthony's tongue from corruption, God has shown us that He approved the Saint's mission and in particular his preaching ….. "
The metaphor of Saint Anthony's "golden tongue" has a significance far greater than the precious metal so highly prized by many. For the pilgrims who flock to venerate his remains at Padua, and for the millions of faithful down through the centuries who have counted him as a beloved friend and confidant, he is a model for using our powers of speech in response to the Holy Spirit's inspiration, and always for the greater honor and glory of our God, as Saint Anthony himself prayed:
"The Holy Spirit, sharing with each as he will, breathes his grace where, how, how much, when, and on whom he will. May he deign to breathe it on us, he who this day breathed his grace on the Apostles in tongues of fire. To him be always praise and glory, through everlasting ages. Amen."