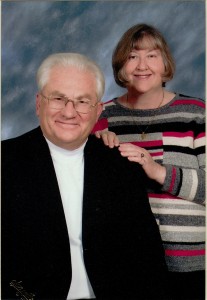 My journey to this Women of Grace® ministry began some years ago at the first women's conference held at the Franciscan University of Steubenville where Johnnette Benkovic was one of the keynote speakers.  I remember talking with her briefly after her presentation and sharing my appreciation for her spirituality. 
In May 2009 Johnnette was again speaking at a local Magnificat breakfast.  I was excited and hoped I would get a chance to share how she impacted my life and spiritual journey.  During her testimony she spoke briefly about the Women of Grace® foundational study and my heart began to pound.  After breakfast I was able to tell Johnnette how much her ministry had meant to me through the years and that I was attracted to the Women of Grace study.  Johnnette encouraged me to attend the Benedicta Leadership and Women of Grace® Conference at the Malvern Retreat Center that July. 
After speaking with her, I wandered over to the book table and asked Joanne Kane about the Women of Grace® kit and then immediately began to rationalize… "I don't know if I can facilitate this study."  "My pastor might not even be open to having this study in our parish."  I stood frozen in place, my heart racing.  Johnnette came over to where I stood immobilized.  She smiled at me and I told her I thought I was supposed to buy the kit.  She asked, "Can I pray with you?"  She prayed, prophesying that the Lord was calling me to be the spiritual mother of many women.  I was shocked because a week earlier my spiritual director had told me that the Lord wanted to use my "mother" heart.  I bought the kit, and told Johnnette I'd see her in Pennsylvania.
I went to the Benedicta Leadership conference where many graces were poured out on me.  Martha, one of the facilitators there said if I went home and my parish priest refused to allow the study, "Don't get discouraged.  Have the study in your home if you have to."
I went home full of enthusiasm, affirmed, and ready to begin the study.  I went to my parish priest and he said no.  God in His faithfulness had prepared me for that no. 
A few days later a close friend and her husband came for dinner.  I shared my excitement about the study and my disappointment that Fr. had said no.  She said, "Why don't you come and give an information night at my parish for our women's Altar Society."   I wanted to get permission from her pastor so I made an appointment with him. All he could talk about was how much he loved watching Johnnette on EWTN and gave an enthusiastic yes.
I gave the information night and quickly the study and the participants came together.  At the end of that study the women were eager to begin study number two at their parish.  The Altar Society president agreed to facilitate the next study and continues to work diligently to continue study after study in the parish.  
Out of that first study has come more facilitators with several other women volunteering for future studies to come. Not only are they continuing the study in their own parish, but have reached out to their cluster parishes now on their third study with new facilitators, like an elderly woman who went through the study twice and decided she had to become a facilitator herself.
I facilitated a study in my home for a group of women where several women then took the study back to their parishes.  In one study a young woman who longed to become pregnant was introduced to the Infant of Prague and the Child Jesus' desire for her to conceive.  We prayed over her and she is very pregnant right now awaiting the birth of her child.
The opportunities are many:  a local retreat center where the director hopes to make the Women of Grace series a regular event with two more studies on their calendar for this year; plans for a study at a local Catholic College; and a local Catholic Mom's group leader desiring to bring the study to other moms. 
One of my lovely sacred sisters in her late eighties said it best, "I have to confess, I only came to this study because my friend just kept after me.  I thought, 'What could I possibly learn that I don't already know at this point in my life?'  But I learned that I had forgotten so much that I once knew, and I learned so much that I never knew.  I am  grateful to have been part of this study."
Our God desires to pour out His love on his daughters, to grow in intimacy with them.
I can only echo the words of Our Blessed Mother:
"My soul proclaims the greatness of the Lord,
My spirit rejoices in God my Savior;
For he has looked with favor on his lowly servant.
From this day all generations will call me blessed:
the Almighty has done great things for me,
and holy is his Name."